Eagles Sign Pass Rusher Connor Barwin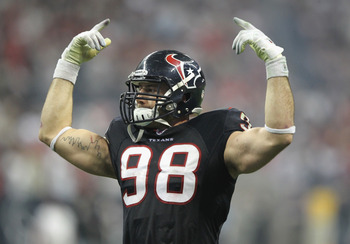 Follow Jeff on Twitter @Jeff1470TheFox for all the latest Eagles and NFL Coverage...
The Eagles just continue to make moves in the early going of free agency revamping their secondary and bringing in four new additions to the defensive backfield and now the Eagles move their focus towards the front seven with their latest signing.
On Thursday the Eagles signed former Texans outside linebacker Connor Barwin to a six-year, $36 million deal. The soon to be 27 year old Barwin(6-3 253lbs) has spent the last four season in Houston recording 108 total tackles, 19 sacks, 16 pass deflections, 1 forced fumble and two fumble recoveries in 49 games(31 starts).
Barwin would fill the bill of an edge pass rushing outside linebacker with experience in a 3-4 system that the Eagles have been in search for and is not just a pass rushing specialist but can make plays against the run as well in coverage against the pass with his awareness and speed to close holes quickly to make plays. He is a physical playmaker and help fill a role but he does bring some red flags.
His injury concern and his inconsistentcy makes you wonder is he worth the signing. After recording an 11.5 sack campaign in 2011, we saw a major dropoff in 2012 with a disappointing 3.5 sacks. If he wants to solidify himself as an elite pass rusher in this league, he has consistently put up decent stats year in and year out. He can be a solid player on this defense and is someone who has experience playing the position under Wade Phillips last season in Houston, let's just hope we see more of the 2011 Barwin and not 2009.
The question is now what does this mean for Trent Cole and Brandon Graham? Cole I feel will be the other starting pass rushing outside linebacker opposite of Barwin. Still a question mark if he can fit the position in the 3-4 scheme. As for the Graham, he might either have to take a paycut or will risk being released. He was showing some signs last year he was fully healed from major surgery two years prior and was the Eagles most dominate rusher with his qb hurries but he is more of a traditional 4-3 DE rusher and has problems coming off the edge standing up in this defense. If he remains, he would provide depth and could come in on pass rushing downs….

Email: Eagle Jeff
EAGLE JEFF: My name is Jeff Warner, but some of you may know me as "Eagle Jeff". I am a Philadelphia Eagles Insider for Sports Radio ESPN Deportes Lehigh Valley and 1460 The Ticket in Harrisburg. Do you love Eagles football? Do you bleed green? If so, you are in the right place! My blog is your destination for all of your Philadelphia Eagles news, as well as my opinions and knowledge on everything Eagles. I eat, sleep and breath Eagles Football so I can provide you all the information you need (and then some) to keep up to date on what is happening with our beloved Birds. I grew up in Emmaus, PA and have recently graduated from the Broadcasting Institute of Maryland in Baltimore, where I studied sports broadcasting. My goal is to someday have my own show and cover the teams I love. I am a die-hard Philly sports fan, but a fan of the Eagles above all else. I have a passion for sports as well as radio broadcasting, so I cannot help but feel blessed to be where I am at today as I constantly try to improve and succeed.